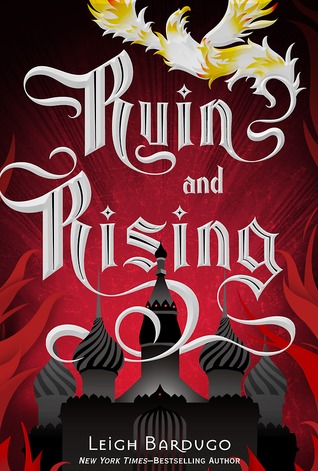 Ruin and Rising (The Grisha #3)
by
Leigh Bardugo
Publication Date: June 17, 2014
My rating:
5
out of 5 stars
Synopsis (from Goodreads):
The capital has fallen.
The Darling rules Ravka from his shadow throne.
Now the nation's fate rests with a broken Sun Summoner, a disgraced tracker, and the shattered remnants of a once-great magical army.
Deep in an ancient network of tunnels and caverns, a weakened Alina must submit to the dubious protection of the Apparat and the zealots who worship her as a Saint. Yet her plans lie elsewhere, with the hunt for the elusive firebird and the hope that an outlaw prince still survives.
Alina will have to forge new alliances and put aside old rivalries as she and Mal race to find the last of Morozova's amplifiers. But as she begins to unravel the Darling's secrets, she reveals a past that will forever alter her understanding of the bond they share and the power she wields. The firebird is the one thing that stands between Ravka and destruction-and claiming it could cost Alina the very future she's fighting for.
She reached for the walls to stable her from the run. She opened her eyes expecting to find rubble at her feet and smell the thick air in the tunnels. Little did she know that she would be safe on her reading knook and only a crick in her neck to tell her of the length of time that has passed. Despair slowly set in as she remembered the chase. The feeling of loss as her heroine swam in and out of consciences and the fear that in the end the villain22 was not destroyed. No one is safe. All she can do is close her eyes shake off her feels and pick up the final chapter. Pouring herself a strong glass of wine and walking off the last bit of anxiety she turns her eyes on the cover of Ruin and Rising and dives into the end with no hopes for a life line but all expectations that she will survive.
Can I start this off with a I just HATE the Apparat!! WTF can you make someone more slimmy? He's not even trying and you want to push him down one of the tunnels never to be heard from again. I also was not a fan of the St Alina cult. I get the desperation to believe in something but even Mal takes a sip of the kool aid and at that I just want to scream. I'm with Alina, she is far from saintly but even if she is her place is not in the tunnels hiding but out there repairing the damage she has left behind.
By now you have either read the series or have been hiding under a rock because after reading book 1&2 how could you have waited not to read and digest book 3? I have a few confessions. #1 I don't want Mal and Alina together. I am rooting for Stormhond! I know this is just in my mind but a girl can dream can I not? #2 I want the darkling to be killed by his mother #3 I want Toyla and Zoya to hook up #4 if I was in the compound I would have killed the king after Genya's confession.
The book opens up with Alina saved from the tragic destruction of the chapel and hidden under the city of Os Alta under the thumb of the apparat, with her is her team of Grisha and Mal at the ready. All of them are devoted to get her out of the tunnels and reunited with Stormhond who they assumed survived the attack and is just buying his time to bring down the darkling.
I find myself wanting Alina to be able to do more with her power than lighting up a room and cutting things. I mean she can yield heavenly fire… shouldn't she be able to burn things or bring life or take life at will? I feel like Leigh made her out to be one big light bulb. Where as the darkling has no limits. He is just full of surprises. Don't get me wrong in book 3 we find out that the connection that draws the darkling to Alina can be used by Alina as well and of course the darkling has had more time to practice his limits but Alina should really be given a learning curve.
The love between Alina and Mal takes a turn too. Mal is desperate to keep his distance because he is convinced that Alina is meant to for so much more than he can offer. Where in book 2 we see him resigned to his role as guardian in this one hes just not there. Alina on the other hand has never been more in love with Mal than before. She knows that the choice she has to make is pretty much already made for her and she just has to find peace with it now. With that peace is the knowledge that this drive for power could be the very thing that waltz her back into the capable hands of the darkling.
He is too ready for that to be the case. The story faces a lot of what should be and what actually is. Each character has their own rendition of how this should play out. Alina wants all the amplifiers with hopes that all three of them will give her the advantage she needs to bring the darkling down. Mal wants Alina safe and feels he has to close off his feelings to protect her and serve his purpose of finding the amplifiers for her. The darkling wants Alina to stop playing saint and help him bring Ravka into the new world where he is king and the Grisha are no longer hunted but respected. Can we all just get along? Well in this world the answer is no… no we can't.
The end to this story is lack luster. I will admit that I didn't see it coming. I thought it would be bells and whistles and lots and lots of hope for the future but it wasn't. It has a very simple ending and we find that the end is very much like the beginning. I did not have a book hangover on this trilogy but I appreciated the journey very much. In true form Leigh never let us believe that it would end in other way than it did. For all things in the end cannot be all powerful. Fears are faced, weaknesses strengthened and friendships are reinforced. In my heart Alina will shine as bright as the morning star, Mal will run free as Morosovas stag, the darkling will have his peace with his past, and Stormhond will fly with his wings spread through the world.